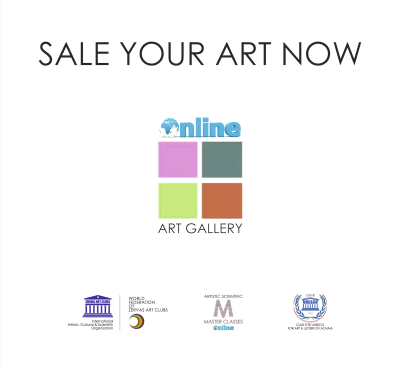 After the covid period, it is clear that online sales are constantly rising,  and it will be permanent. "Zervas Art" and the best partners in the field of online sales created the unique and most advanced platform for the promotion of artworks, directly from the artists to the buyers "without intermediaries" !!!The Global Strategy of the ONLINE ART GALLERY is that all artists have equal and the same sales prospects. The only difference is the preferences of the buyers and the prices. That's why artists are free to negotiate the prices of their artworks (without anyone knowing it), just like selling from their studio.
It is true that some sell and others do not sell…
The Team of the Online Art Gallery by Zervas Art
 This is only because of the prices and preferences of the buyers. But in the long run, all artists and all artworks will find their customer… !!!
The transparency and publicity of the visitors' measurements are absolutely true and correct and are proved to 1,500 visitors every day !!! While the number of viewers exceeds 2,500,000 every month.
ONLINE ART GALLERY by Zervas Art is supported by the most modern WEB MARKETING with the aim of success and rapid growth.
You are welcome in the unique International Art Market on the Web!
We wish you SOLD OUT !!!
..
10 REASONS TO BUY ART
DON'T PAY MORE
YOU DONT NEED INTERMEDIARIES
TALK WITH THE ARTISTS
BUY FROM THE ARTISTS
SUPPORT ARTISTS
MAKE YOUR SMART BUYES
SUPPORT ART
YOU DONT NEED TRY 
BUY THE BEST PRICES
BUY FROM THE ARTISTS STUDIO
.