.
THE PHILOSOPHY OF MASTER CLASS STUDIES
.
VISUAL ARTS FREE LABORATORY 
The Online Art Gallery by Zervas Art has created a Workshop of Free Art where artists and all those interested can get online the basic grammar of the visual arts .
The privelege is that artists can attend Master Classes from distinguished and selected professors and artists and have the opportunity to enrich their knowledge at the Postgraduate level or even higher.
Ordinary students who want to get basic knowledge and the alphabet of art can now enjoy the Master Class at the level they want.
"Don't talk too much about art  … because it will disprove you"!
PROGRAM OF STUDIES
The curriculum concerns the basic but also sophisticated techniques regarding the learning and application of the Art Editor: Draw, Color, Composition.
Students are not required to prove their studies or be tested to be assessed their level of knowledge.
The study of the Artistic & Scientific Master Classes is based on the philosophy of free transfer of artistic knowledge to those who really need it and seek their evolution.
The curriculum is constantly being enriched and those interested can attend the Masters on a permanent basis.
Art is our Maternal language!
LEVEL OF MASTER CLASSES
The level of Artistic & Scientific Master Classes varies and is ideal to meet any need, but also to satisfy the most sophisticated quests.
The demanding participants ensure that Master Classes are teaching from great art teachers and famous artists, in order to achieve their own personal goal.
The ongoing study based on the ever-enriching cycle of Master Classes is the grammar and syntax of art in a complete form. But talent is personal "gift" and cannot be taught.
"It is not necessary to respect and love art.
Art is just a privilege.
But what kind of privilege!!!"
CATEGORIES OF STUDIES
We have created for you 4 techique levels and 2 theoritical level of studies. 
The Master Classes of which we suggest you attend are based on the degree of difficulty of them
but also on the size of the fame of the professors and artists who offer these to us.
Our platform of studies is updated every month with new videos
.
MASTER CLASSES OF BASIC STUDIES
.
.
MASTER CLASSES OF MASTER DEGREE LEVEL
.
.
MASTER CLASSES OF DOCTORA LEVEL
.
.
EXTRA ARTISTIC TECHNIQES
.
.
CULTURAL & ARTISTIC MANAGEMENT
.
.
GET NOW POSTGRADUATE LEVEL
OFFICIAL DIPLOMAS 
FOR YOUR CAREER
GET IT NOW
CERTIFICATE OF STUDIES
39.00 euros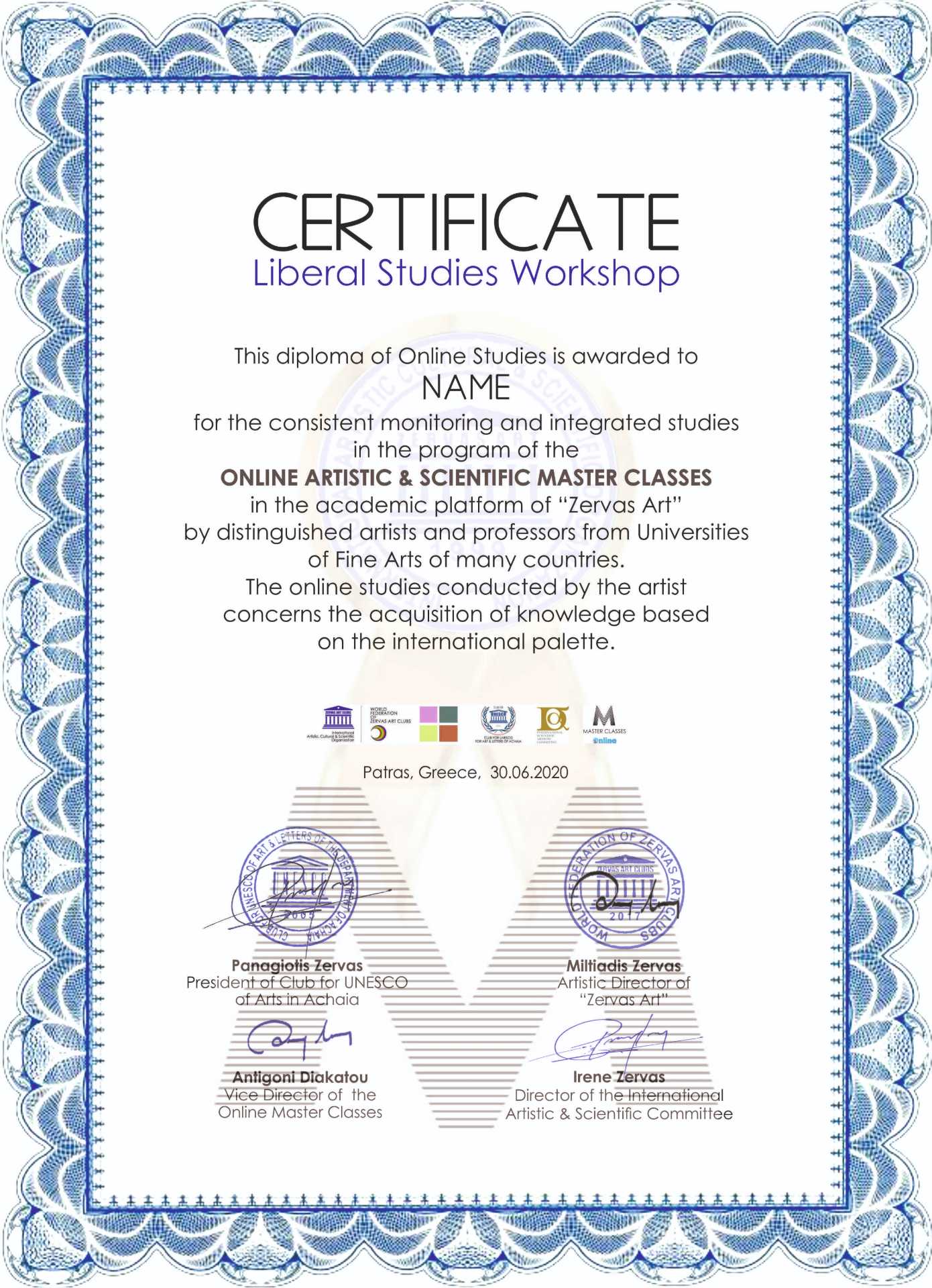 GET IT NOW
DIPLOMA MASTER CLASS
65.00 euros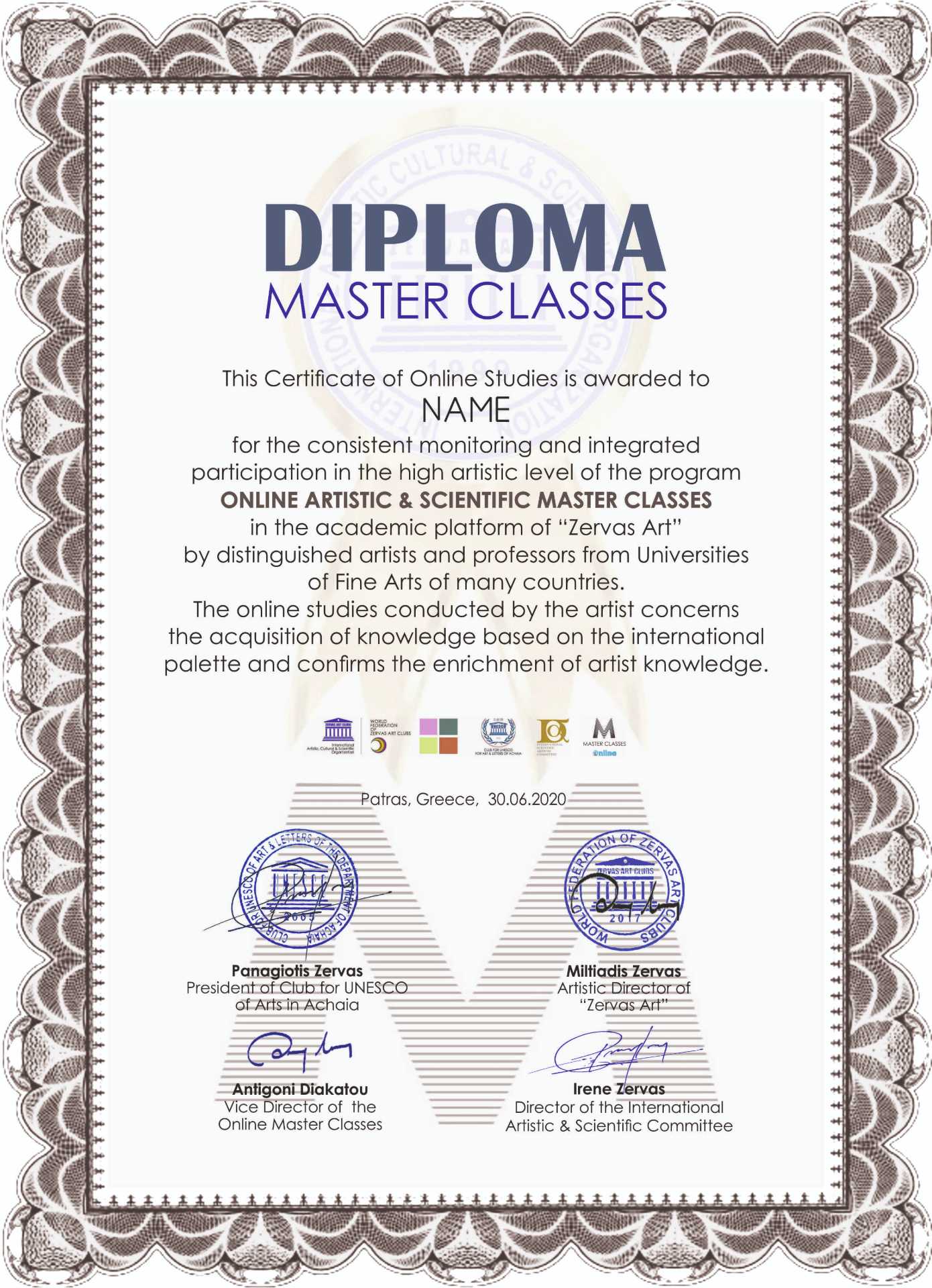 GET IT NOW
CERTIFICATE MASTER DEGREE
99.00 euros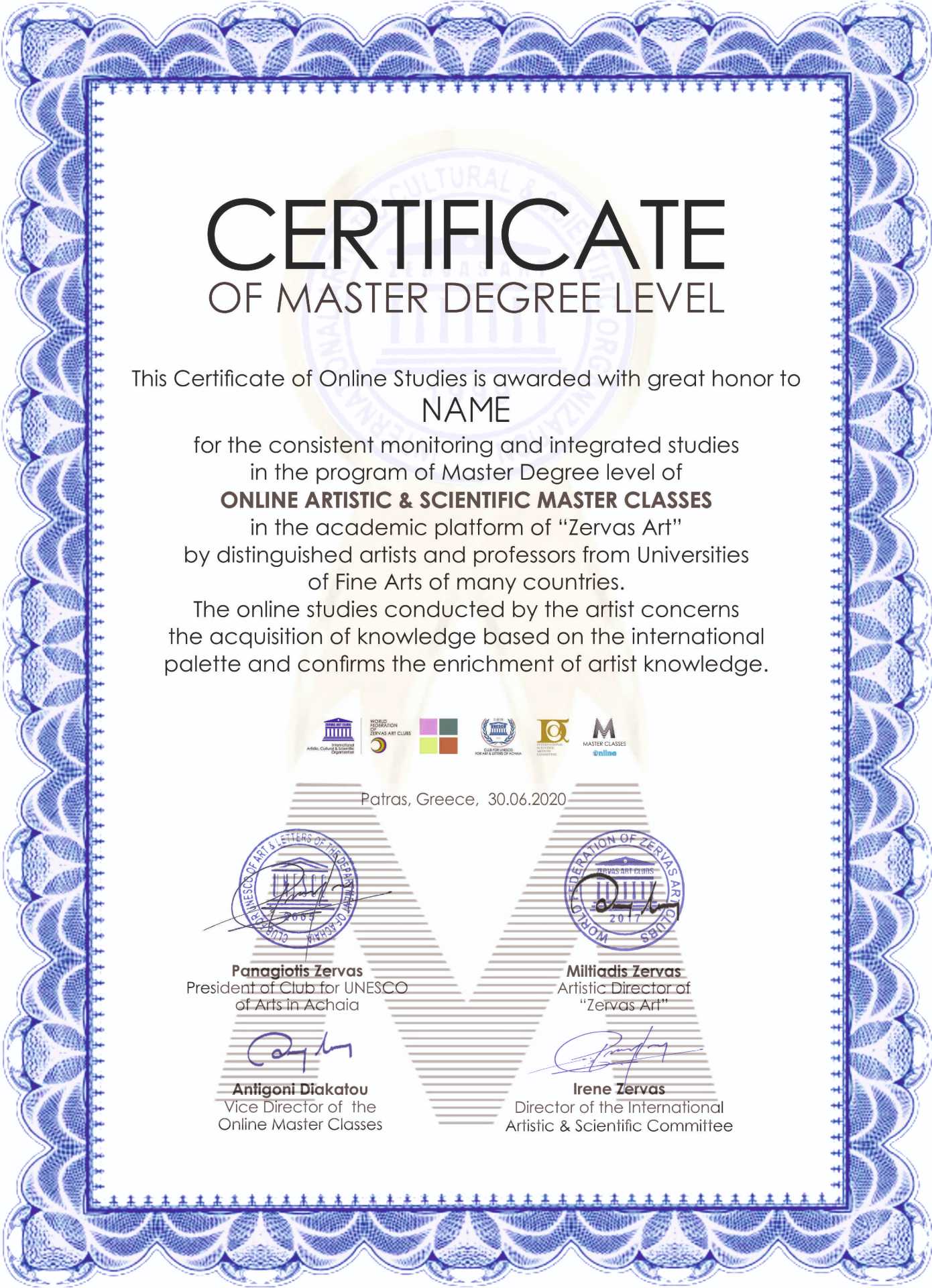 FAST – EASY & SAFE PAYMENT
GET YOUR PRECIOUS CERTIFICATES NOW
39.00 €           65.00 €           99.00 €

DEPOSIT IN OUR BANK
Bank Name : PIRAEUS BANK
IBAN: GR43 0171 5690 0065 6914 2102 115
Account No: 6569-1421-02115
BIC-SWIFT: PIRBGRAA
Receiver Name: PANAGIOTIS ZERVAS (father name: MILTIADIS)
Bank address: KORINTHOU 224, PATRAS  26221 GREECE
Zervas Art address: ANDROUTSOU 9 STR AG. VASILEIOS PATRAS GREECE 26504
Tell No: +30 2610 994804
REGISTER FOR FREE
To present your ONLINE MASTER CLASS
.
APPLY
YOUR CERTIFICATES 
.
REGISTER FOR FREE
For your ONLINE STUDIES